Production and delivery to ARC Ride to start in 2023
Musashi Seimitsu Industry Co., Ltd. (Global Headquarters: Toyohashi-city, Aichi, Japan; President and CEO: Hiroshi Otsuka, "Musashi") has received an order for a two-wheel EV-Unit which applies for electric motorcycles assembled by ARC Ride, a startup based in Kenya. Production and delivery of the parts are scheduled to begin in 2023. This is Musashi's first EV-Unit launch in the East African market.
■Two-wheel EV-Unit introduction video
https://youtu.be/Epqwqwjaso0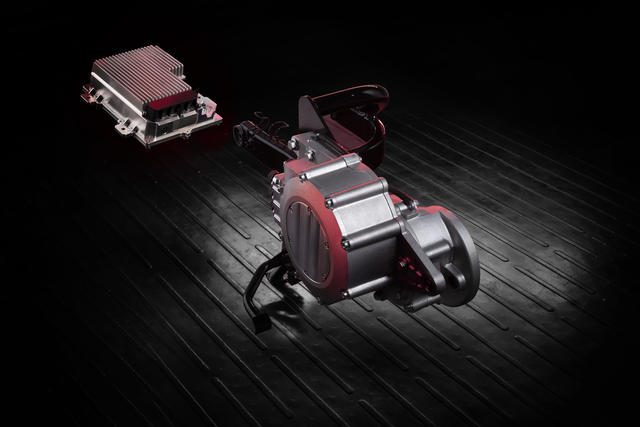 ▲Electric Motor unit with integrated gearbox for electric motorcycles
There are three factors that need to be addressed in the electrification of motorcycles: traveling distance, noise, and cost. Of these aspects, weight and the transmission efficiency play a major role in driving distance, while gear precision plays a similar role in noise. Musashi's two-wheel EV unit has achieved both size and weight requirements by integrating the motor and the gearbox together. Furthermore, high transmission efficiency and low noise have been achieved by implementing Musashi's advanced gear processing know-how. In terms of cost, the design can be applied in models of different tire sizes by simply changing the gears and arms, without changing the motor or inverter, thus reducing development costs.
By accelerating the promotion of electric motorcycles, Musashi will contribute to the realization of a prosperous carbon-neutral global society where people and the environment live in harmony.
【About ARC Ride】
ARC Ride is a leading African EV company with an assembly plant in Nairobi, Kenya. It has created an EV ecosystem that supports the transition to clean energy mobility systems. ARC Ride designs, builds and assembles Electric 2 wheelers and 3 wheelers as well as a proprietary battery swapping and management platform. ARC Ride enables existing first and last mile transport solutions to go electric and empower a new generation of commuters to embrace personal E-mobility. We are at the forefront of the E-mobility revolution sweeping across Africa.
Website: http://arcrideglobal.com